PLACES ARE CURRENTLY AVAILABLE FOR SEPTEMBER. PLEASE SIGN UP NOW
Welcome to Slade Nursery School
' to provide the best possible start for each child.'
I would like to welcome you to the Slade Nursery School. We have children and families at the heart of all we do. Our mission is to meet the individual needs of every child who attends Slade Nursery School and Day Nursery.
Slade Nursery School is an integrated Nursery for children six months to seven years old. This enables a good relationship with their key people as they grow. The children love the family feel of the nursery. We offer places for three to five year olds who are entitled to a 15 or 30 hour funded place and funded places for two year olds, led by experienced specialists. Wrap around sessions are available for children who need additional hours.
The Nursery School have extended services to give children and families a great opportunity to
stay and play with babies and toddlers.
Slade Nursery School has a wonderful purpose built building and an
amazing garden space and a separate outdoor area for the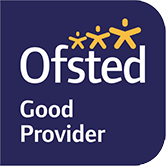 two year olds.
Our website will provide you with information about our aims and values. It explains how we work and how the children will learn during their time with us.
Please feel free to visit us and find out more.
Carol Lister
Head teacher